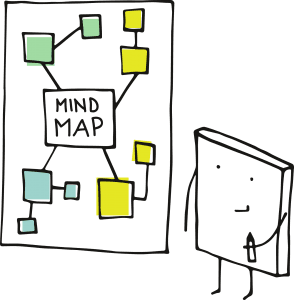 A Mind Map is a simple but powerful brainstorming technique. It is formatted like a flow chart with the lead item in the center and lines drawn to a bunch of boxes surrounding the center. Each box addresses a particular aspect related to the central theme. The theme can be anything from an action plan to a personal skills analysis, to an overview of something you are creating. It can also capture different lengths of time such as detail for a day versus an outline for a month.
You can target it toward an action plan for goals related to areas of development on the wheel of life (more on this here) or outlining the path to the things on your wish list.
Identify what it is you want to achieve. Go deep. Not just the accomplishment, but also what it would give you. In other words, the meaning that it provides and write your Mind Map with this in mind.
Only put the steps that make sense for the time span you are adopting. This is both in terms of what is doable and what is the next step that needs to be taken. For example, if you want to write a book don't put checking out publishers before you know what it will be about or include all the steps from outlining, writing to implementing a book launch. Make sure you are on board with getting each item done and if some less urgent items have to be carried over at the end of the timespan don't chastise yourself but reaffirm your priorities for the Mind Map.
A monthly business mind map might include boxes and additional details around:
following up leads.
marketing actions.
adding value for your consumers – which allows you to develop relationships and positive feedback.
research that is required or skill acquisition or continuing education.
accounting practices, invoicing and payments.
actions needed to develop and launch a particular event or product.
You can even prioritize the task by designating weeks or days when the action will be accomplished. Getting a piece of paper and constructing a Mind Map each month serves to
Bring clarity to your immediate priorities.
Show how these priorities are related and sequence.
Provide prompt and checklist to keep every aspect front of mind
Up the level of commitment. Generating this map increases responsibility and motivation. Every intention to complete an action that you set is a way to hold yourself accountable.
Celebrate your success and accomplishment over time. When you have done it for several months check back and marvel at what you achieved.
Each and every one of these have value. This process has revolutionized my productivity and my focus on targeted action steps. You can rank tasks, check them off as they are completed and use it as a prompt to remind you of the actions required. This is a self-coaching support system for taking and maintaining action.
---
Image by Manfred Steger from Pixabay