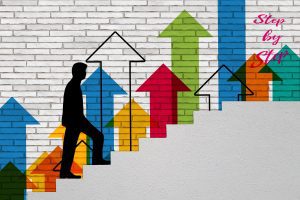 As a coaching entrepreneur, you want to invest wisely in your business. However, your success strategy depends on your stage of business development. There are seven stages of business acumen (student, intern, apprentice, practitioner, master practitioner, teacher, leader).
Your time, energy, and resources will be better spent when you align with the needs of the stage you are in. Working on more advanced stages is ok, but will likely only deliver into the stage that you are on. In addition, a mismatch may actually prevent you from gaining traction.
Each stage provides a foundation for the next in terms of the value you provide and context for marketing. Your progression through each stage forms your business story. Over time, this allows you to naturally acquire a certain level of authenticity and credibility so that people want to do business with you.
The stages are student, intern, apprentice, practitioner, master practitioner, teacher, and leader. Knowing what stage you are in has many benefits. It provides a guide for your experience and growth as a coaching entrepreneur. It allows you to enjoy the stage you are in without worrying about aspects that are not relevant to your stage. Focus on mastering the stage you are in and only compare yourself to others in this stage.
Student
This is where you are studying a new skill or have completed the initial study of a new skill and acquire an appreciation of the scope and value of this learning to yourself and others. You are starting out as a coach and have learned coaching tools and techniques. You have a belief in your process of acquiring the new material. In other words, you are developing confidence in your understanding. You may even hesitate to call yourself a coaching entrepreneur. Focus on the depth of your learning. You might acquire certification, read books, watch videos, etc.
Do all you can to understand the process.
Intern
In this stage, you have applied these skills for free or for some payment in at least five ongoing situations. You have provided your service to five repeat clients and they report exceptional value whether paid or unpaid. These are often people you already know. You are acquiring real-world experience which allows you to acquire belief in the value you deliver. You are developing confidence in the practical application of what you have learned.
Find as many people to practice with overtime as you can and commit to providing the best experience possible.
Apprentice
You have developed consistency and are beginning to think of yourself as a coaching entrepreneur. This might be evidenced by working with a number of clients over an extended period of time. You have been paid market value for working with them. You have acquired an additional skill of knowing how to enroll new clients. This requires heart-centered enrollment based on the meaning your work brings rather than traditional marketing campaigns. Your experience has given you faith in your ability to have a conversation with leads, develop these relationships, and get paid for your transformational service. You have the basis of value creation and marketing. You are acquiring belief in the transformation you provide and simple systems for getting the word out and making sales.
Focus on building relationships and growing the social proof for your products and services. Begin to hone in on your specific area of passion.
Practitioner
The process you use is effective for finding and enrolling new clients and you have enough clients to meet your basic living expenses. It is likely that you are still paid by the hour and beginning to get clarity on your niche and your ideal audience. You have the ability to generate enough income to live on.
Now you can develop this further and refine your systems for sales, delivery, and financial management. At this stage of your business development, you may not wish to invest in expensive marketing funnels. Find low cost, low tech high touch way to get your message out there.
In other words, you are focussing on setting your MOOD. This acronym stands for your message, offer, outreach, and delivery.
You gain greater clarity on the transformation that you provide. This means that you can target your Message and copy to who you help, as well as what problem is solved.
You can begin to transition from hourly service to bundles by developing a fabulous Offer. This is a package that attracts prospects based on the results you provide.
Your Outreach becomes more consistent such that you are repeating specific targeted actions. You gradually narrow down your marketing methods to the ones that bring the greatest return and align with what you like to do and the platforms that you like to use. For example, speaking versus writing.
Finally, make sure to Deliver by serving from the place of an abundant mindset putting the customer first.
In each part of setting the MOOD, you are revising based on your exploration and feedback and may go through many iterations, each one an improvement on the last.
Master practitioner
Experience has led you to identify what your ideal client wants and you have refined your marketing and sales systems accordingly. You are now earning beyond your living expenses with demand for your services and maybe even a waiting list. You are super clear on your brand and enjoy the process of generating referrals and having enrollment conversations. Messaging that generates the most traction can be incorporated in paid advertising campaigns. You have a belief in your ability to generate business. The evolution of your systems has led to developing marketing funnels.
Your focus is on connecting all the pieces to optimize your marketing funnels. This might include targeted ads that connect people to a landing page to opt-in to receive additional value from you followed by an additional call to action to enroll them in a product or service.
Teacher
Demand has prompted scaling up to group services and evergreen packages. One-on-one experience with you is now a premium. You are leveraging your time and being paid for the transition and value you provide rather than by the hour. You are moving into an entrepreneurial mindset, learning how to cleanly and effectively enroll groups of people at a time, and generate informational products that address an acknowledged, underserved need. This generates a belief in your ability to create and deliver transformational products to a large audience.
Your focus now is on leveraging your time and delivering transformation in ways that scale up to a larger audience. Your experience as a coaching entrepreneur is such that you can mentor others.
Leader
You are now working on updating your marketing and delivery to keep expanding your audience. Selective automation and outsourcing mean that you can generate income indirectly. You deliberately seek efficiency and adapt your systems to reach more people. You have a belief in all aspects of your organization to deliver outstanding services even when you are not available.
Your focus is on operating according to your central mission and only taking action that is aligned with that.
In order to move through all of these stages as a coaching entrepreneur, you need to have an unwavering belief in delivering at the highest level. You also need to view adversity as a gift and to be able to accept and work through the challenges associated with each stage. In other words, you need to have a large-scale vision for meeting your target audience's needs and the ability to step outside your comfort zone.
---
Image by Gerd Altmann from Pixabay