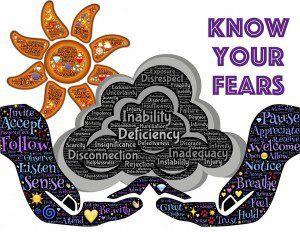 Even when employing the first two keys for motivating yourself, of detailing your vision and beginning to take action to realize it, you may occasionally feel frightened: especially when reaching your goals requires stretching yourself and encountering new territory. This is when the third key becomes critical. Don't buy any excuses or limitations you impose on yourself. If you or others are hard on you, objectively think of these criticisms as positive feedback for your sustained growth. Do not internalize them allowing a false barrier to occur that will hold you back. The following habits will allow you to respond to, own, and address your fears.
1) Alternative Perspectives
Oftentimes, overcoming our fears leads to our greatest strengths. So, it is useful to reflect on what the opportunity or inspired action could be in the circumstances that are causing us anxiety. Think about the ways that you are conceptualizing the issue. In each case, examine them for truth and other possible ways of thinking about the experience. Are you anticipating or inflating problems? What would be a more useful, positive, and purposeful way to think about it? How can you make change work for you and direct yourself? Another way to address your fears is by taking a moment to own your anxieties and find the benefit or upside is a great way to keep on track. Identifying the value in what you are doing, even when you don't want to do it, provides additional reasons to engage. It supports your decision to be great. Developing this type of honest contemplation also brings rewards of self-encouragement and self-compassion.
Read More »

Motivate Yourself: Key#3 Check your Fears at the Gate