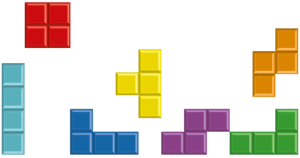 Greater efficiency and productivity occur when you can handle tasks through to completion. This principle means you move tasks directly from your inbox to your outbox.
Occasionally, the task returns to the inbox multiple times. This means you repeatedly have to reestablish the point of continuance often resulting in lost productivity.
Tasks do not get completed when something necessary for completion is unavailable. You also have to revisit tasks when there is not enough motivation or time. When pieces are lacking our contribution is temporarily paused. If motivation is the issue we might be procrastinating or distracted and fundamentally are not fully committed to completion. When there is a shortage of time, it makes sense to chunk a project into distinct steps. This shifts the focus to completing each individual step.
What can we do in each of these cases? A good analogy is Tetris where you are working to create a shape that allows you to get to the outbox (drop off the screen).
Read More »

Efficiency: Touch Once or Chunk