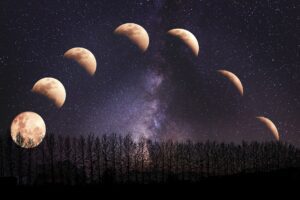 Moon mapping is the application of lunar phase energy to our planning process. This 8-phase cycle over the course of 28 days can support setting and fulfilling our intentions.
It allows you to revisit your goals on a monthly basis. Your focus can be a single short-term goal that you expect to take a month such as establishing a new habit. Or, it can be a long-term goal that you expect to make some progress on each month and can break down into appropriate subgoals or steps on the way to the ultimate goal.
For short-term goals, the lunar cycle provides time-bound accountability. For longer terms goals, the feedback and discovery you get each month provide a foundation for the next.
Read More »

Moon Mapping: Leveraging This Cycle in Your Planning