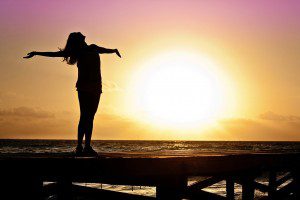 How are you doing on those New Year resolutions? Perhaps you wanted to shed holiday pounds through diet and exercise and have a healthier lifestyle? If your motivation has taken a hit, these apps for self-coaching provide options for measuring your health-related activities. This type of self-observation provides invaluable feedback and has been labeled the "quantified self" movement. While I have not had personal experience with all of these, I have seen firsthand how much impact logging your behavior can have. You can no longer hide behind approximations, but find out exactly how accurate your perceptions of your behavior were. By setting an objective and getting data feedback you gain support and accountability. This increases your chances of success in much the same way as life coaching. Below, I describe the main features of ten health apps for self-coaching that will support you in establishing new habits.
This free app for iPhone or android enables you to map your fitness activities by time, distance, speed, pace, calories, and route. Engagement is also increased through planning, music, progress feedback, and run history.
This free web app uses databases of foods and exercises to track calorie intake and output.
This iPhone/iPad app makes you conscious of your food consumption. The number of mouthfuls of food we need to consume each day to feel full is supposed to be 80 – who knew. You can test this out by tapping the screen for each bite eaten.
Track both your food and your exercise with this free web app. It includes goals creation, progress sharing as well as challenging and encouraging the progress of others.
With this free iPhone/iPad app just click on the image of the water container you are drinking from to record your intake. You can easily monitor how much water you consume and meet your hydration goals.
Zing! This free iPhone/iPad app allows you to track caffeine levels according to your coffee, chocolate, or energy drink intake during the day. Your coffee persona is revealed after a week of use and after ten days it also provides data on the impact of caffeine on your sleep quality.
This alarm clock app for iPhone and android analyzes your sleep patterns and wakes you in your lightest sleep phase. It also detects other patterns such as snoring, sleep-talking and tracks overall time asleep. But, make sure you make time to recharge your device battery!
This free web app allows you to measure, track, and share your mood by playing a card game. The data can be used to identify what could be causing your ups and downs during the day, and from day-to-day. By using the app, you can learn how much your mood varies and optimize your behaviors to boost your emotional well-being.
One of many mindfulness app possibilities, Simply Being for the iPhone or android allows your choice of mediation session length as well as whether it is guided or overlaid with soothing, natural sounds.
With this iPhone app you can check your stress levels and get feedback to support optimal performance and re-energizing.
If any of these apps for self-coaching align with your health goals, you might be a few clicks away from maintaining a healthier and happier you.
Facebook Comments