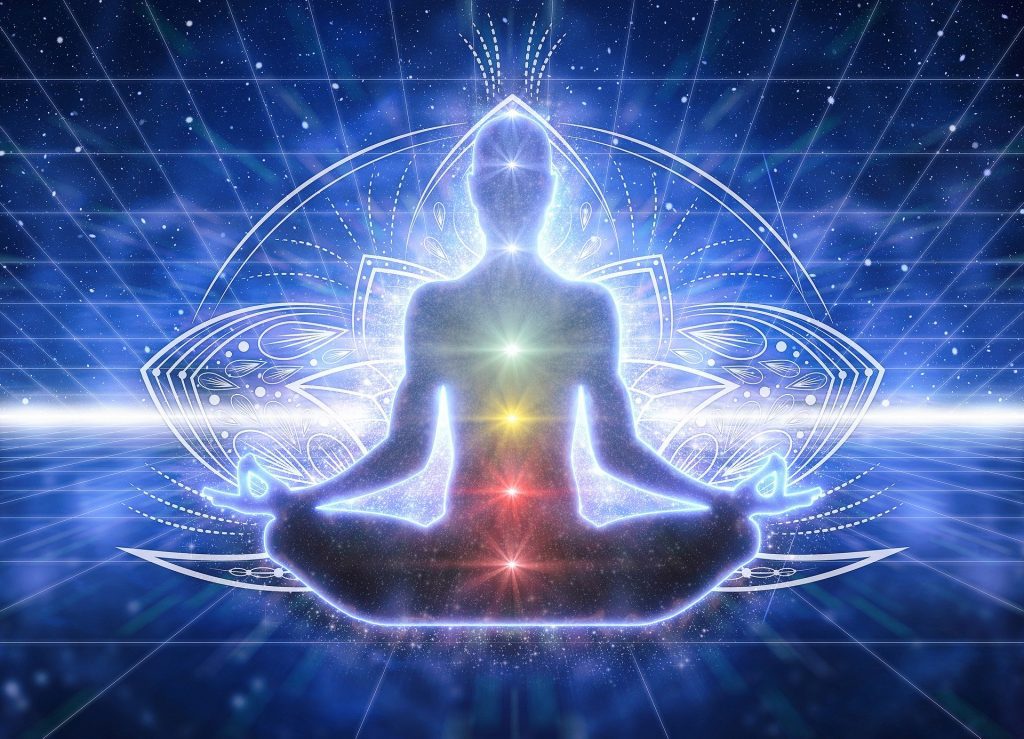 The Chakras have a lot to teach us in terms of what we need to heal as well as what we can do to heal.
Certain traumas or negative experiences can lead to specific Chakras being out of balance. This shows up in our emotional and physical responses as well as our thought patterns and level of overall energy.
The tables below provide more detail as to what the orientation of each chakra is and how this can support us in selecting healing practices.
The Chakras are the psychic junctions of the Nadis (energy channels) that run through our bodies. When they are out of balance this energy cannot flow. Check which traumas are present and the healing practices that most resonate with you.
Chakra
Sanskrit name
Focus
Blocked by too much
Opened by oneness of
Truth to uphold

Impacted by Traumas
Healing Practices

Crown

Sahasrara
To know and to learn
Attachment
Limits/Differentiation
All is one

Forced religion, Misinformation, Withheld information, Control over right to question or think for oneself
Developing inner witness, Examining belief systems, Connection to source

Third eye

Ajna
To see
Illusion
Sense of self
Honor one another

Mismatch of what you learn and see, Invalidation of intuition, Seeing awful things
Dreamwork, Hypnosis, Art therapy, Visualization, Meditation

Throat

Vishuddha
To speak and be heard
Lies
Truth
Honor self

Lies, Mixed messages, Excessive criticism, Verbal abuse, Authoritarian parents
Singing, Chanting, Toning, Silence (excess), Journaling, Movement of neck and shoulders

Heart

Anahata
To love and be loved
Grief
Meaning
Love is divine power

Betrayal, Sexual or physical abuse, Loveless environment, Rejection, Abandonment, Conditional love, Divorce, Death of loved one
Processing of grief, Forgiveness practices, Inner child work, Codependency work, Self acceptance

Solar plexus

Manipura
To act and be an individual
Shame
Control
Surrender to divine will

Shaming, Domination of will, Volatile situations, Lack of control, Fear of outcomes, Premature responsibility
Sit-ups, Processing anger, Vigorous exercise, Optimal stress management

Sacral


Swadhisthana
To feel and have pleasure
Guilt
Hedonics

Seek only divine truth

Sexual abuse, Physical or emotional restraint, Neglect, Denial of pleasure
Inner child work, Boundary work, Emotional processing

Root

Maladhara
To be here and have
Fear
Foundation
Live in the present moment

Poor mother bonding, Lack of emotional and physical support, Inherited or ancestral traumas
Touch, Massage, Physical exercise, Grounding, Hatha Yoga
Use the table to identify which of your Chakras are deficient, balanced, or overactive. As well as adopting healing practices, each Chakra can be balanced by working with the relevant element, sound, or color. If you use these while meditating direct your attention to the physical location of the Chakra.
Chakra
Element
Sound
Color
When Deficient
When Balanced
When Overactive

Crown

Time/Space
Om
Violet
Spiritual cynicism, Learning difficulties, Brain fog, Weak faith, Apathy, Rigid beliefs, Possible need to own and control
Intelligent, Thoughtful, Aware, Wise, Understanding, Open minded
Over-intellectualization, Spiritual addiction, Bodily dissociation

Third eye

Light/Dark
Aum
Indigo
Poor vision and memory, Difficulty visualizing, Insensitive, In denial
Imaginative, Intuitive, Perceptive, Clear thoughts and vision, Sees beyond physical
Nightmares, Hallucinations, Obsessions, Delusions, Difficulty concentrating

Throat

Ether
Ham
Blue
Fear of speaking, Small voice, Shyness, Difficulty communicating
Good listener, Sense of rhythm and timing, Clear communicator, Diplomatic
Loud, Inability to listen, Gossipy, Interrupting, Talks over others, Harsh words

Heart

Air
Yam
Green
Lack of empathy, Lonely, Withdrawn, Depressed, Narcissistic, Frightened of intimacy, Intolerant
Loving, Compassionate, Altruistic, Tolerant, Empathetic
Jealous, Codependent, Self-sacrificing, Give too much, Demanding, Clinging

Solar plexus

Fire
Ram
Yellow
Low energy, Weak willed, Passive, Unreliable
Personal power, Appropriate self discipline, Confidence, Self-esteem, Effective will, Responsible, Reliable
Power hungry, Aggressive, Domineering, Competitive, Arrogant, Deceitful

Sacral


Water
Vam
Orange
Excessive boundaries, Fear of change, Poor social skills, Lack of desire
Emotional intelligence, Healthy boundaries, Can experience pleasure. Can nurture self and others, Able to change
Pleasure addiction, Overemotional, Oversensitive, Hedonistic, Obsessive attachment

Root

Earth
Lam
Red
Underweight, Chronic disorganization, Disconnection from body
Safe, Secure, Trust the world, Can relax, Grounded, Comfortable in body, Stable, Prosperous
Greedy, Hoarding, Overeating, Tired
---
Image by Okan Caliskan from Pixabay